How to Organize Shoes: Top 10 Shoe Storage Ideas
Must you hire an expert arranger to organize your shoes systematically for you? Well, probably not. With access to tips on how to organize shoes, you can manage this on your own. Furthermore, it will be more fun and inexpensive.
Learning ways how to organize your shoes at home is not intricate.  If you know the right steps to follow, it's something you can manage in your free time. With the right guidance, you can maximize the available space and make your room look neat.
Thanks to online sites, there are many organization ideas you can leverage for your shoes. But today, we've got the secret to the most successful shoe organization plan. They are the top 10 shoe storage ideas you can use for your space. Simply review them and choose one that favors your space. Let's start:
Top 10 Shoes Organization Ideas
But before you deploy any of these ideas, you should start with housekeeping. For any organization plan to work, one must declutter the space and sort the items. Equinox Cleaning Company maids can help you with this step.
After decluttering and sorting your shoes, then you should move on to the next step. And that's making an inventory.
Make an Inventory
Take out all your shoes and separate those you need from those you don't. You can dispose of those shoes you don't plan to wear in the future.
Set aside a pile of shoes that are too torn or beyond repair
After setting aside what you don't need, then sort the remaining shoes into pairs.
At this point, you should be having your favorite shoes on one side. They can include those that need repair. Thereafter, sort out those that need a repair on one side so that you can fix them soonest. With the remaining clean pairs of shoes, organize them into summer and winter shoes. This will help you with the seasonal arrangement. The final batch of shoes is the dressier shoes. You can sort them out as well.
Purge
When it comes to those shoes you don't need, you can donate them to charity. You can examine their condition first to determine those that belong to charity. You can dispose of those in a poor state.
Repair
This category contains your favorite shoes that need repair. Therefore, pile them together and take them to a shoe repair shop for fixing.
Cleaning
All the shoes that fall into this category will remain in your home. Therefore, you need to clean them up before you start organizing them in the storage space. Use a cloth to wipe off dust and wash those that need washing.
Choose Your Organizers
When organizing your shoes, there are several factors you will use as a guide. For instance, how much storage space is available? How many shoes do you have? And if you have a small space in the closet for your shoes, you will need alternative locations to store your items. In this case, you can use the space below your bed, and even get storage locations for proper shoe organization.
Book Cabinet
Well if your closet has limited storage space, you can always make more from a book cabinet. It's a practical yet stylish option to opt for. To save on cash, find a second-hand book cabinet and repurpose it.
Over-the-door Storage
It's a typical storage hack that has been around for years. Depending on the option you choose, it can hold over 20 pairs of shoes enabling you to maximize the available space.
Shoe organizer on the clothes rod
This is an alternative to over-the-door storage. This option fits into your closet allowing you to maximally use the available space.
Shoe Boxes
Do you still have your shoe boxes? Then, it's time to use them as shoe organizers. They are easy to organize and they will safely store your shoes. Alternatively, you can use clear containers the same size as shoe boxes. They are cheaper and make it easy to find specific shoes.
Cubicle Storage Boxes
4×4 cubicles are the best organizers for sneakers, flats, and slides. They are also decorative besides being practical.
Rolling shoe rack
They are typical shoe organizers but are very practical. Of course, they are not stylish, but they do provide enough space to organize your shoes. To store it, consider closets or behind the door.
DIY Storage Options
Shoe cart
If you have a vintage bar or old gardening cart, you can repurpose it. They do make stylish shoe organizers that can also serve as décor.
Ladder Shoes Organizer
A ladder-style shoe organizer is the easiest storage you can manage to make at home. You only need to repurpose the old folding ladder. With a few tools accessible at home and a basic guide, you can create a shoe organizer within a few minutes or hours. It depends on your speed when handling tools.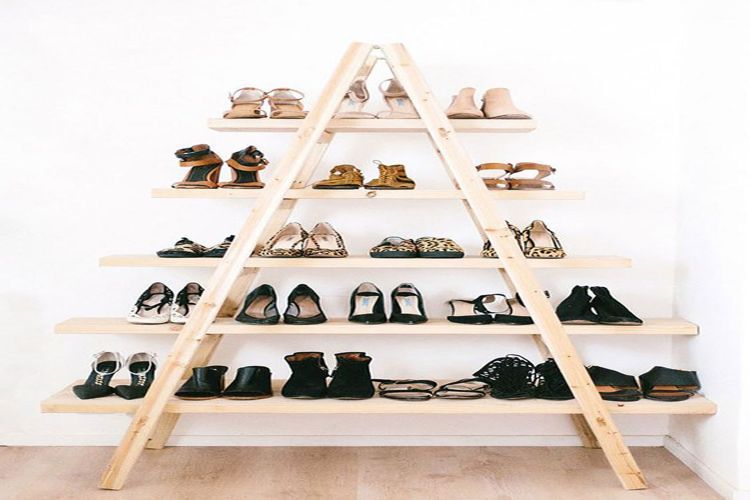 Boot Storage Shoe Rack
If you have a mud room, consider having boot storage for your shoes. It will create more room where you can organize your shoes. But not just the mud room, boot storage is also applicable in the laundry room.
Below the Bed ORGANIZERS
If there's enough room under your room, you can use the space for shoe organizers. Below the bed containers will create ideal storage for your shoes. It's a perfect spot for off-season shoes.
Getting Started How To Organize Shoes

Learning ways how to organize your shoes is important if you want your house, especially your bedroom to look neat. Also, it makes it easy to find a shoe among tens or hundreds of others. Now that your shoes are in order thanks to this guide, you can also do the same with your clothes. Get the entire closet organized for a nice finish.
You may leverage the services of a professional housekeeper for this. Alternatively, you can manage this alone with the help of a DIY guide. Also, you can bring the professional commercial cleaning services of Equinox Company on board. They'll handle the cleaning of the entire house as you focus on organizing your staff. The outcome will be remarkable.
Tags: How to Organize Shoes